For many of us, the older we get, the more conscious we become of health and wellness issues. Just like a machine, the human body accumulates wear and tear over time, meaning regular maintenance is important to keep everything running smoothly.
If you've engaged in physical therapy for years, you may be concerned that aging will make it more difficult to perform the exercises you're used to. Or, you may have never tried physical therapy before, but now that you're getting a little older, you're interested in seeing how it can help you stay healthy and independent.
Whatever the case, you probably have questions. How does physical therapy differ for older adults? How does one's age affect their daily regimen? Are there specific exercises that can help minimize the impact of aging?
As always, Mid-County Physical Therapy is here to provide the best expert advice and guidance regarding physical therapy solutions for seniors. Below, we'll discuss why physical therapy is important as you get older, what kinds of physical therapy are most beneficial for older adults, and even a few tips for making sure you stay safe during physical therapy exercises.
Benefits of Physical Therapy for Seniors
Physical therapy helps eliminate and reduce both chronic and acute pain. Whether caused by injury or an ongoing health condition, physical therapy can prevent pain from interfering with daily life activities.

Physical therapy is an effective means of injury prevention, strengthening the body and increasing its limberness in order to reduce the likelihood of suffering physical harm during an accident or due to overuse.

Physical therapy is a safe, natural, non-pharmaceutical alternative to many kinds of prescription drugs, especially those used for pain management. Physical therapy can help eliminate or greatly reduce the need for medication.

Physical therapy helps older adults stay independent by keeping them active, mobile, coordinated, and healthy. This allows seniors greater autonomy over their lives without having to rely on others for assistance.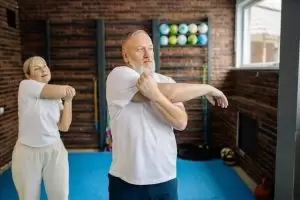 Best Senior Physical Therapy Solutions
Geriatric physical therapy is designed specifically to address the unique challenges and physical conditions associated with old age. Geriatric physical therapy exercises typically focus on building strength and endurance while protecting against deconditioning.

Post-op rehabilitation physical therapy

 is designed specifically to help surgical patients heal quickly, efficiently, and safely. It also emphasizes helping patients return to the same level of mobility, strength, and comfort they functioned at prior to their surgery.

Orthopedic physical therapy is designed specifically to target a person's musculoskeletal system, with exercises geared towards increasing the flexibility of the individual's joints, muscles, tendons, and ligaments. It also provides pain management assistance for conditions like osteoarthritis.

Cardiopulmonary physical therapy is designed specifically to aid patients recovering from a heart attack or other cardiovascular conditions. Working to improve general cardio health also helps counteract the harmful effects of these conditions and reduce the likelihood of future recurrences or complications.

Neurological physical therapy is designed specifically to address neurological conditions like Parkinson's, Alzheimer's, ALS, TBI, concussion, and more. Neurological physical therapy exercises help with coordination, balance, pain management, memory issues, depression, and more.
Physical Therapy Safety Tips for Seniors
When engaging in any kind of physical exercise, remember to stay hydrated at all times.

Avoid working out alone—exercise in the presence of a licensed physical therapist or friend when possible. If you must exercise alone, keep a fully charged phone with you.

If you experience unusual discomfort, pain, numbness, or weakness during an exercise, inform your physical therapist immediately.

Avoid high-impact and heavy-lifting exercises to avoid unnecessary stress on joints, muscles, and bones. 
Stay in Shape at Mid-County Physical Therapy
Mid-County Physical Therapy makes it easier than ever to keep active, maintain your independence, and improve your overall quality of life. Whatever your age or experience, our team of licensed physical therapists will work with you to create a personalized treatment plan that addresses your specific needs, strengths, weaknesses, and lifestyle.
Whether you're looking for help with pain or symptom management, rehabbing an injury or surgery, or you want to stay in shape as a preventative measure, Mid-County Physical Therapy can help. Schedule an appointment with us today!