Joint Replacement Program in Woodbridge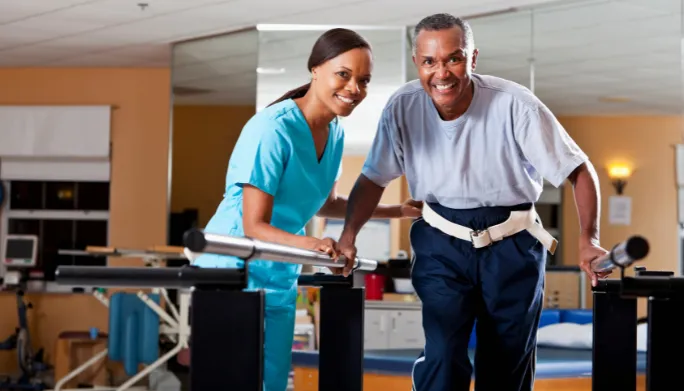 What is Our Woodbridge Joint Replacement Program?
Undergoing surgery can be a challenging experience. While it's a pivotal step in rectifying severe injuries, the post-surgery journey towards recovery can often be lengthy and strenuous. The good news? You don't have to walk this path alone.
Our rehabilitation mission is rooted in ensuring your recovery is efficient, safe, and as pain-free as possible. Designed with meticulous care, our program's objective is not only to guide you back to optimal health but also to empower you with knowledge about your condition and the recovery trajectory.
What Can I Expect From Our Joint Replacement Program in woodbridge?
Every patient's journey begins with an exhaustive examination, leveraging goniometry for precise joint care and assessment. This isn't a one-size-fits-all approach; we pride ourselves on tailoring treatments specifically to your unique needs. With our seasoned team of physical therapy professionals at the helm, you can rest assured that your individualized treatment plan will be the gold standard in post-operative care.
Core Pillars of Our Program:
In-depth Insight: With us, you're more than just a patient. We believe in equipping you with a clear understanding of the rehabilitation process, and setting tangible and realistic expectations for your recovery journey.
Holistic Care: From restoring joint movement to employing cutting-edge technology for pain alleviation and swelling reduction, our treatments are all-encompassing.
Accelerated Independence: Our treatments are designed to ensure you regain mobility faster, reducing your reliance on aids like walkers or canes.
Prevention and Protection: Beyond just treating, we emphasize avoiding potential future complications. Through our program, the risk of re-injury diminishes, and you'll learn techniques to forestall further issues.
Empowerment and Guidance: Every step of the way, our experts will guide you through treatments and exercises, all aimed at ensuring you achieve your personal recovery goals.
Enhanced Daily Functioning: Our treatment is designed to reintegrate you swiftly and safely into your everyday activities.
Understanding Your Recovery Timeline With Joint Replacement Program
While every patient's condition and injury severity differ, making it hard to predict exact recovery times, we can confidently assert that our Post-Op Rehabilitation Program is optimized to fast-track your healing. Our goal? To ensure you reclaim a high-quality life as soon as feasibly possible.
Our Joint Replacement Program Evolves with You:
Beware of facilities that adopt a repetitive, unchanging approach to treatment. A dynamic condition requires dynamic care. At Mid-County Physical Therapy, we emphasize the importance of evolving your treatment plan as you progress. It's not just about treating; it's about growing, adapting, and optimizing care for the best outcomes.
Prioritize Your Health – The Time to Act is Now:
Postponing post-op care or settling for subpar treatments can severely hamper your recovery, potentially leading to prolonged dysfunction or, in extreme cases, necessitating additional surgical intervention.
Choose to prioritize your health. Embark on your post-op rehabilitation journey with Mid-County Physical Therapy and unveil a revitalized, healthier version of yourself. We're here, ready to guide you every step of the way.
Request An Appointment
Please fill out this form and
we will contact you about scheduling.

Linda Montgomery

This is my second time going to Mid County Physical Therapy. The people there are very nice and concerned. They work with you and take their time. The place is clean and tidy.It is always a pleasant experience.


Jerome Watson

Mid County Physical Therapy is a convenient, professional and authoritative facility with a qualified and friendly staff.  I look forward to each of my 2x a week sessions.  A variety of exercises and movements make each visit enjoyable.